Hi, I'm back! Did you miss me? Things have been pretty busy at the White house. For starters, we had a baby. I didn't mention that I'm pregnant? Oops. Well, I am-- or I was. Tim and I found out we were expecting a new addition of the human variety (unlike our
new addition, Sullivan
). Our little guy was due August 9th, so we scurried to finish projects at our house before his arrival. Here's an early image of the little guy.
Welcome to the world, Baby White! Turner Robert White joined our family July 29, 2012. Little T is busy growing, eating, and playing, but he'll be involved in DIY projects before we know it.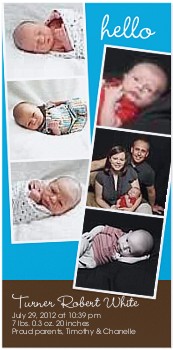 Hello Boy Baby Announcements
Click here
to browse Shutterfly birth announcement designs.

We've been pretty busy with this little cutie the last 3 months. There has been very little time for DIY projects, but I do have some fun things to share. Most of our projects were pretty small, but we did throw in another bathroom renovation. I'll be back to share more!